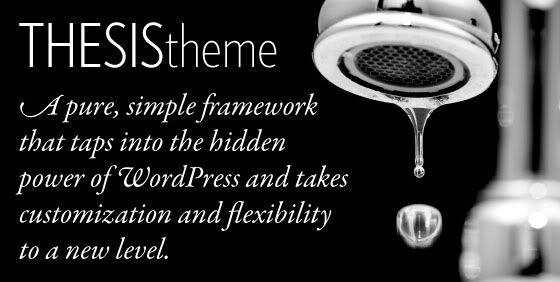 Hey, it's been a year since I moved my blog from WordPress.com to WordPress.org and I felt it's also time to change how it looks. The old theme called "Statement" from blogohblog.com has served me well despite the birth pains of customization and monetization that face most noob bloggers. The good news is, I won't have to repeat most, if not all of the customizations I made previously to the new blog theme I am using now.
That's because I'm using Thesis.
Thesis is a theme for WordPress developed by Chris Pearson who runs the DIYthemes website. Having took up mechanical engineering, Pearson believed he can build a WordPress theme framework that has it all—killer typography, a dynamically resizable layout, intelligent code, airtight optimization for search engines, and tons of flexibility. I believe Thesis is it.
I started implementing Thesis two days ago and as you can see, I have it already up and running including my Adsense ads. Customizing was so easy that I don't think I would settle with my current design just yet. I will give you some tips on how to easily customize your Thesis theme in the next few posts.
What are you waiting for? Grab your Thesis now!