If you have been manually upgrading your WordPress to a new version, you normally would follow the Three Step Upgrade guide from WordPress.org. It isn't difficult enough to do a manual upgrade, but there are easier and faster ways to do it. If you have signed up with a web hosting provider that includes a WordPress installer, chances are, they already have a feature that would let you upgrade to a newer version from the one you originally installed from when you started. Usually, however, they don't update to the latest version as soon as it is released by the WordPress developers.

My web host provider currently supports WordPress 2.5.1 only.
So the best way really is to install the WordPress Automatic Upgrade plugin. So here's how to do it:
Step 1. Download and Install the WordPress Automatic Upgrade Plugin (if you don't know how to install, just holler).
Step 2. Activate the plugin.
Step 3. Go to Manage tab and click Automatic Upgrade.
Step 4. Select "automated version" for the one-click upgrade.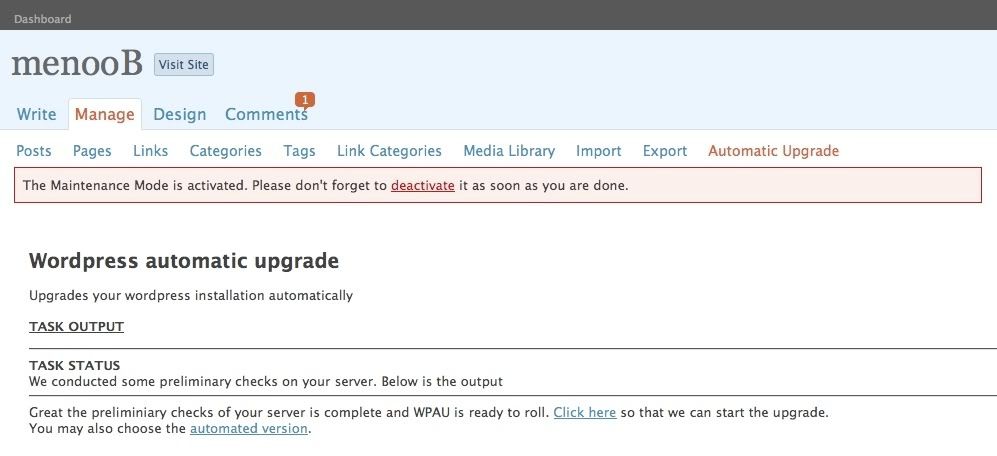 Note: You can select "Click here" to guide you step-by-step if you want to see the upgrade process.
At this point, the plugin will automatically perform the following:
1) Checks to see if current WordPress version needs an upgrade.
2) Backs up your WordPress files and databases to your hard disk.
3) Downloads the latest WordPress version from http:wordpress.org/latest.zip and unzips it.
4) Puts the site in maintenance mode (users will see a page that says Under Maintenace when they go to your site)
5) De-activates all plugins and remembers it.
6) Upgrades WordPress files.
7) Re-activates the plugins (you may have to re-activate it manually).
If everything goes well, you should be on the latest version. If not, you have your backup of your files that you can restore.
The next time a new WordPress version is released, you can do your upgrade in one step!