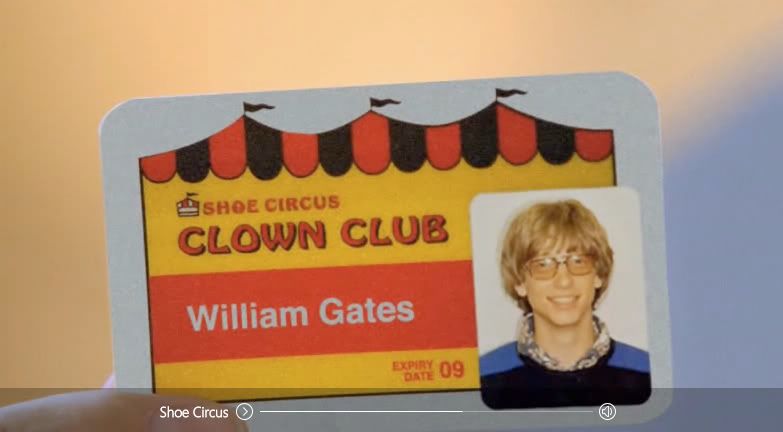 The much talked about new ad from Microsoft has not yet reached our local networks (I doubt if it will even be shown here), but no thanks to the Internet, it made me watched a commercial intently quite a few times. The thing is, that ad doesn't let you easily get the message and is open to a lot of interpretations. Many people think the Shoe Circus store is an Apple Store and Bill and Seinfeld subtly pokes fun at Apple products just like the Mac vs PC ads. I didn't see it that way. In fact if there was any hint of making fun of Apple's products it was really, really very subtle.
Anyway, here is my own take on it.
Shoe Circus is PC Store
Shoe Circus is like your ubiquitous computer store that sells quality, discounted PCs (why pay more for a Mac?). Like PCs, you get plenty of choices with shoes, and unlike Macs, you can select whatever fits your style or needs. Like good shoes, PCs can last long by allowing users to easily add more storage, memory or other hardware peripherals and software applications from many different vendors (stretchable and flexible).
Leather is Windows
Seinfeld touches the shoe and asks if it is Bill's toe that he feels underneath. To which Bill replies, "No". "Leather" (referring to Windows OS running under the PC hood that is like good quality leather, as oppose to the competition, like a big sore toe).
Conquistador is Windows is Bill is Microsoft
Then Seinfeld introduces the Conquistador shoes. Like good software, it runs very tight and flexible (with well integrated, optimized, and easily expandable code). Wearing it in the shower means the technology fits your whole life. You can work or play anywhere, anytime; take it on the desktop, in your pocket, or yes, in the shower; for business or entertainment. Seinfeld rates the technology as a 10, just like Bill himself is a 10 (in terms of wealth and computer geekiness), and at the same time, throwing a potshot at OS X.
How about the people watching outside the glass door asking in Spanish, "Is that the Conquistador?" While the other says, "They run tight." Nope, they are not referring to the shoes, but to Bill Gates himself as they watch in amazement the famous man trying shoes in a discount shoe store. Yes, Bill the Conquistador, the conqueror of every home and every desk around the world, who runs a tightly knit organization—Microsoft.
Big Top Points
Bill pays for his shoes and the clerk asks, "Are you a Shoe Circus Town Club Member?", to which Bill responded, "Platinum", while flashing his card with an old photo of his young self. He was there when the PC industry started. In fact, he is the Top Gun of the industry itself, so he get's big top points—an advantage Microsoft has over its competitors when doing business with other players.
Piece of Work
Lastly, Seinfeld asks Bill if all the great minds in Microsoft can create a technology beyond eye candy and sugar coating (the churros connection), and if so, to give a sign by adjusting his shorts. Bill slightly wiggled his butt as if saying, "Yes, piece of cake".
What's Next?
In summary, I believe this ad would like to show that Microsoft, which started the personal computer industry, remains to be the leader and will continue to do so by creating better technology than the competition. Perhaps the message will become clearer when the rest of the ads are shown.
Hey, that's just how I interpret the ad. I don't necessarily agree with the message though.
So, how about you? What do you think is the message of Microsoft's new ad?