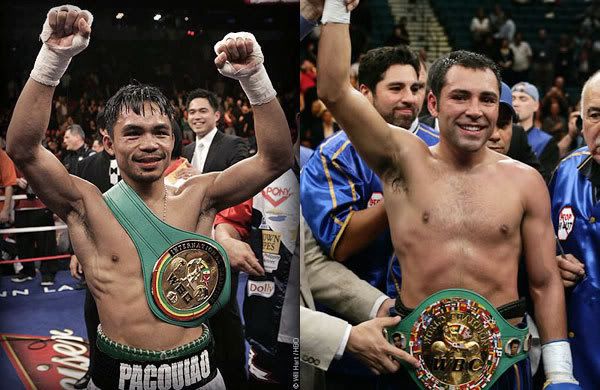 Eleven days before his 30th birthday, a bigger Manny Pacquiao will face a much bigger opponent that will make him a rare underdog in his 53rd professional fight spanning 13 years. In January 1995, while this obscure and skinny 17 year old Filipino was fighting his first professional match as a Light Flyweight (106 lbs), a 22 year old fast rising star from the opposite side of the globe has just successfully defended for the second time his WBO Lightweight Title (135 lbs) with a 9th round stoppage, bringing his professional record to 16-0 with 15 KOs. His name is Oscar De La Hoya.
Video Game Dream Match
While De La Hoya continued his climb to international stardom by beating the best fighters he has come to faced in different weight divisions, at the same time picking up the IBF Lightweight, WBC Light Welterweight, WBC Welterweight, and IBA Welterweight Titles (147 lbs) along the way, Pacquiao was beginning to make waves in his homeland by capturing the WBC Flyweight and the WBC International Super Bantamweight Titles (122 lbs). But still, he remains relatively unknown both in and out of his country, while De La Hoya was already an established superstar having beaten some of boxing's biggest names in Jesse James Leija, Julio Cesar Chavez (2X), Pernell Whitaker, Hector Camacho, Ike Quartey, and Arturo Gatti. In fact, even at the time, Pacquiao was already a self-confessed fan of the great Oscar De La Hoya. So who would have thought, even in his wildest dreams, that these two boxers will meet sometime in the future, to fight for perhaps the biggest purse in boxing history in a dream match, that until recently, can only be made possible on video game consoles?
Crossing Paths
By a stroke of destiny, these two boxers of divergent backgrounds but with the same heart of steel, will cross each other's paths for the first time in June 2001. After travelling across the big expanse of blue ocean to seek for bigger fights and bigger bucks, Manny Pacquiao received manna from heaven when he finally gets a call to fight the reigning IBF Super Bantamweight Champion, Lehlohonolo Ledwaba of South Africa. As a last minute substitute, Pacquiao eagerly stepped on the ring despite training only for two weeks. He was not about to let this chance slip, afterall, he was fighting in the under card of his idol at the glitzy MGM Grand in Las Vegas—The Mecca of Boxing.
As a heavy underdog, Pacquiao will do the unthinkable and destroy the champion in only six rounds to claim his second world title. In the main event, De La Hoya himself will annex the WBC Super Welterweight Title (154 lbs) to his 6 other world titles with a 12 round unanimous decision over Javier Castillejo. Interestingly, after these fights, Pacquiao and De La Hoya will have identical professional records of 34 wins and 2 loses, with 24 and 26 KOs respectively. De La Hoya at his prime at 28, Pacquiao still raw and unpolished at 23. Nevertheless, the future of boxing has emphatically made his presence felt, and the boxing gods took notice.
Different Paths
After their victories in that same night, Pacquiao will go on to fight 17 more times, winning 15 with 11 KOs, losing once and drawing twice. De La Hoya will fight only 8 more times, winning 5 with 3 KOs, and losing thrice. Pacquiao will become a superstar in his own right by beating future hall of famers in Marco Antonio Barrera (2X), Erik Morales (2X) and Juan Manuel Marquez. On the other hand, De La Hoya will lose to future hall of famers in Shane Mosley, Bernard Hopkins and Floyd Mayweather Jr. Pacquiao will go on to capture the WBC Super Featherweight (130 lbs) and WBC Lightweight (135 lbs) Titles, while De La Hoya will lose his remaining title as the WBC Light Middleweight Champion (154 lbs), but in the process, will break the all-time box-office record and pay-per-view buys to make him the richest boxer in history.
In May 2008, De La Hoya, in preparation for a planned rematch with Floyd Mayweather Jr., won a unanimous decision against the 5'7½" Steve Forbes at a catch weight of 150 lbs. Despite winning every round, De La Hoya will have his pretty faced badly bruised by the smaller Forbes. In contrast, Pacquiao's latest fight was a one-sided victory over the WBC Lightweight Champion, David Diaz, en route to a devastating 9th round TKO.
Pound for Pound
From a one-handed slugger, Pacquiao has morphed into a boxer and perfected a deadly right-hook, aptly called "Manila Ice". His trainer, Freddie Roach, who took him in his wings when promoters in America were turning him away, is greatly credited for his transformation from a devil-may-care slugger to a skilled boxer. With the retirement of Floyd Mayweather Jr., Pacquiao is currently considered by many boxing experts as the new Pound for Pound best boxer in the world today. Indeed, a long way from his humble beginnings as an impoverish boxer with big dreams.
De La Hoya himself was chosen as the Ring Magazine's Top Pound for Pound boxer in 1997. Despite being already an established superstar, he will continue to challenge widely recognized #1 P4P fighters within his weight class such as Pernell Whitaker, Shane Mosley, Bernard Hopkins and Floyd Mayweather Jr. Now, for his next battle on December 6, and being true to his warrior mentality, he has again selected the current P4P King to challenge himself anew.
Crossroads
It was a long hard road for both fighters to get where they are now; but one is still trying his way up, the other has reached the peak, and is slowly on his way down. Destiny will let them meet at a crossroads in their careers. Both have already accomplished so much but neither is willing to take the easy road. This time, they know there is only one road to take and it isn't big enough for both of them.