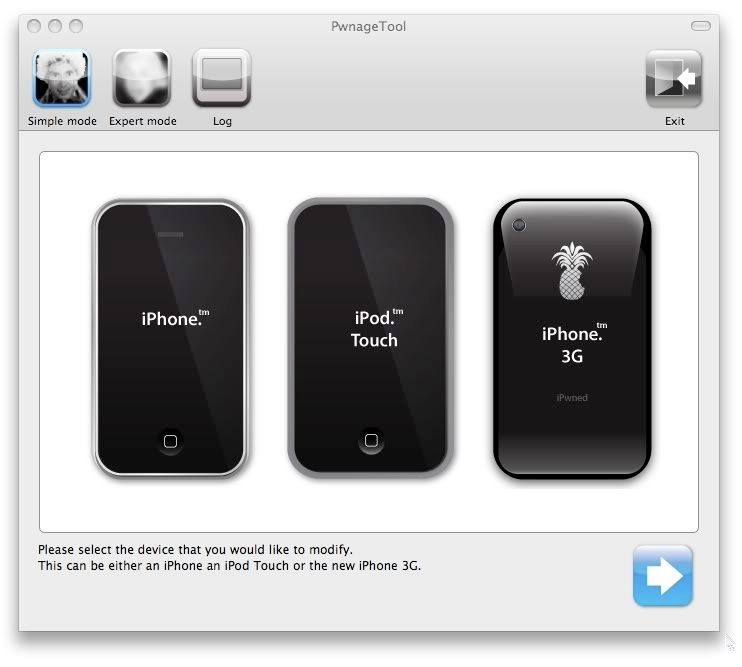 Update: PwnageTool 2.0.1 (still Mac only) has been released with bug fixes. This PwnageTool 2.0 Guide remains applicable.
Note: PwnageTool 2.0 is for Mac only at this time. You also cannot upgrade from firmware versions older than 1.1.4. I suggest you use my other guide if you need to upgrade your iPhone to 1.1.4 first.
This guide will help you upgrade your iPhone v1.0 from firmware 1.1.4 to 2.0 using the PwnageTool 2.0 created by the iPhone Dev Team.
My own iPhone 1.1.4 was jailbroken, activated and unlocked using Zibri's Ziphone 2.5 prior to using the PwnageTool.
Step 1. Preparation
1) Download the following files and save them to your desktop.
a. iPhone1, 1_2.0_5A347_Restore_ipsw
b. PwnageTool 2.0 (extract zip file)
c. Bootloaders 3.9 and 4.6 (extract rar file)

2) Prepare your iPhone and iTunes.
a. Update your iTunes to version 7.7
b. Sync your iPhone on iTunes to backup your files.
c. Exit iTunes and disconnect your iPhone from your Mac.
d. Important! On your Mac, make sure you have an empty ~/Library/iTunes/Device Support folder (where ~ is usually your name). If there is none, create the Device Support folder.
Step 2. Using PwnageTool 2.0
1) Open PwnageTool 2.0
2) Under Simple Mode, select the type of your device (ex. iPhone) and click on the next arrow button.
3) Select the iPhone1, 1_2.0_5A347 ipsw file (if PwnageTool can't find it on your computer, it will prompt you to browse for the file).
4) Select "No" when prompted to search the web for the Bootloader v3.9 file.
5) Select "Yes" to browse for the Bootloader v3.9 file and select the file from your desktop directory.
6) Select "No" when prompted to search the web for the Bootloader v4.6 file.
7) Select "Yes" to browse for the Bootloader v4.6 file and select the file from your desktop directory.
8) Select "Yes" to create an .ipsw file to restore your iPhone with iTunes. The .ipsw file created will be placed automatically on your desktop.
9) When prompted if you're a legit iPhone user, select "No" to activate and unlock your iPhone.
10) Wait while PwnageTool builds your custom 2.0 firmware.
11) Enter your Mac password when prompted and click OK.
12) Select "No" if your iPhone has not been Pawned before (no Pineapple logo).
13) Quickly connect your iPhone to your Mac.
14) Follow the instruction on the screen to put your iPhone in DFU mode. If it fails, try again. You will need to turn ON your iPhone and wait for PwnageTool to ask you to turn it OFF again. (hint: press Power and Home button at the same time for 10 seconds, then release the Power button while still pressing the Home button for another 10 seconds).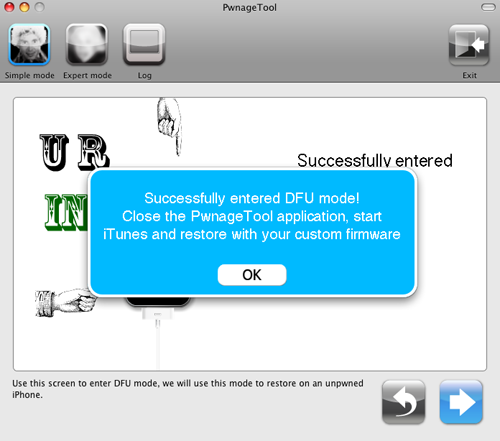 Step 3. Restore iPhone to PwnageTool Custom Created ipsw
15) Close PwnageTool and open iTunes. It should detect your iPhone in recovery mode. Click OK. (note: if it prompts for automatic checking for updates, just click on "Check").
16) While holding the Option key on your Mac, click on the Restore button on iTunes.
17) Select the iPhone1, 1_2.0_5A347_Custom_Restore.ipsw.
18) PwnageTool will perform it's work on your iPhone to activate and unlock it. When done, your iPhone will reboot and display Springboard 2.0.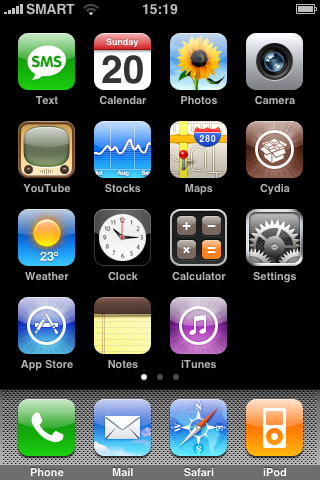 19) Restore your iPhone files from iTunes.
Congratulations!
Additional notes:
1. Your Mail App may not work after upgrading to 2.0. I suggest you follow my guide on how to fix your Mail App after an upgrade.
2. Installer App will be replaced by Cydia. Many previous applications working on old firmware will no longer work. Wait for these to become compatible with 2.0.