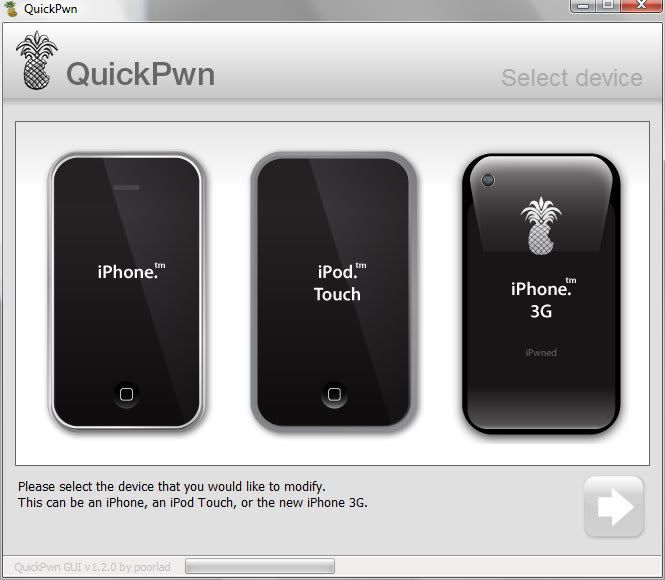 The iPhone Dev Team has released a new tool that will allow an iPhone running firmware 2.0, 2.0.1 or 2.0.2 to be "Pwned" (the ability to install future custom non-Apple firmwares) and jailbroken. This time however, instead of releasing for the Mac first, the new tool, named QuickPwn for Windows has been released obviously for Windows only. Although I have a Windows PC and Windows Vista on my Mac via Parallels Desktop, I decided to wait for the official version of the tool for the Mac. After all, this Windows version is still in Beta and there is no compelling reason for an immediate upgrade to iPhone 2.0.2.
For those who want to try anyway, you can download QuickPwn for Windows here.
Make sure to read and understand what the iPhone Dev Team says about this tool first before using it.
Using QuickPwn does not update the firmware itself, this tool is designed to 'Pwn' (the ability to install future custom non-Apple firmwares) , 'Jailbreak' and install Installer or Cydia on a given device. If your device is running 2.0.1 and you QuickPwn it, it'll still be running 2.0.1, although it will now be Pwned and Jailbroken, similarly if your device is running 2.0.2 and you QuickPwn it, it will then be running 2.0.2 but the device will now be Pwned and Jailbroken. It will also activate (not unlock) devices that are being used outside of their intended territories and cannot be activated using iTunes.

If you want to update to 2.0.2 then use the normal iTunes update to get to 2.0.2 and then use QuickPwn to Pwn, Jailbreak and Activate, remember that the 2.0.2 update includes a baseband update for the 3G iPhone, so depending what your long term intentions are for the phone, update wisely, of course in the upcoming PwnageTool application you'll be able to create a custom ipsw without the baseband update enabled.

Our Mac GUI whizzes in the team are working on a graphical Mac OS X version of QuickPwn and also adding some nice little tweaks to the next release of PwnageTool. As soon as these are finished and tested, we'll let you know, but don't hold your breath and refresh for these, the release is not imminent.

Again, no updates from our baseband hackers with regard to the unlocking of the 3G iPhone.
Instructions (backup your iPhone first!):
1) Upgrade iPhone to 2.0.2 using iTunes.
2) Download QuickPwn for Windows (link above).
3) Run QuickPwn for Windows.
4) Select your device.
5) Browse for the IPSW (C:UsersNameAppdataRoamingApple ComputeriTunesiPhone Software Updates)
6) Select Cydia/Installer/Boot Logo etc in QuickPwn
7) Go! (follow instructions on screen)
8) Wait for a while.
9) iPhone will reboot in 2.0.2 jailbroken and activated.
Good luck!