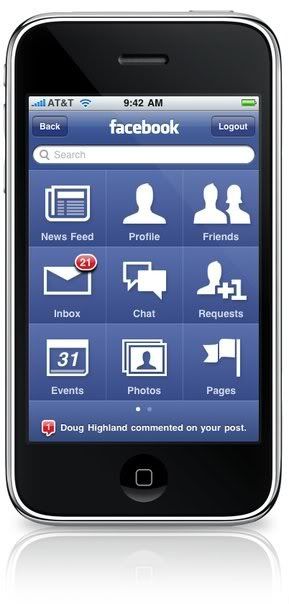 If you love Facebook and you're an iPhone user, you'll be excited to learn that a new Facebook app designed for the iPhone software version 3.0 will hit the App Store soon! Developer Joe Hewitt who is responsible for the Facebook application on the iPhone has posted some of the new features which he says is 98% done.
1. The "new" News Feed
2. Like
3. Events (including the ability to RSVP)
4. Notes
5. Pages
6. Create new photo albums
7. Upload photos to any album
8. Zoom into photos
9. Easier photo tagging
10. Profile Pictures albums
11. A new home screen for easy access to all your stuff, search, and notifications
12. Add your favorite profiles and pages to the home screen
13. Better Notifications (they link to the comments so you can reply)
14. Quickly call or text people right from the Friends page
15. Messages you are typing will be restored if you quit or are interrupted by a phone call
But there is one more feature that he didn't mention in his initial post—the ability to upload videos when using the iPhone 3GS. He was working on this one big feature for another release but was surprised to find out how easy it was to get it up and running.
Too bad, I still have the original iPhone 2G. Anyone willing to gift me with the new iPhone 3GS? I wish…