I sometimes have a hard time falling asleep at night even when everything is quiet… maybe too quiet. When counting sheep simply does not work, I find it helpful to listen to an audio book on my iPhone like Paulo Coelho's "The Alchemist" or Stephen Hawking's "A Briefer History of Time". Usually, I'm asleep in about an hour into the story. The problem however is, I usually wake up in the middle of the night with the audio book still playing and I have to turn it off, and that brings me back to where I started—awake.
Now, we have several applications from the App Store that can help us relax and fall asleep by listening to the sound of nature, instruments, or other soothing sounds with timers to automatically turn-off the sounds at a pre-determined time. The applications reviewed here are Ambiance, iChillout and aSleep, all for $0.99 each. You don't have to buy all of them. Their features are almost the same, and what's more important is finding the sound that will help you relax and fall asleep.
Here is the summary of what each application has to offer with my rating for each.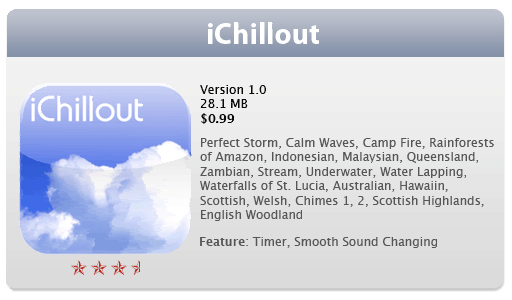 As you can see, aSleep has the most number of sounds you can choose from, consequently, with the biggest file size. I haven't really tried all of those sounds yet but I always like the sound of falling rain or one of the meditation sounds that brings images of Chinese monks dancing in slow motion.
How about you, does the Alien sound help you fall asleep or cause anxiety attacks?