There's Mocha VNC for the iPhone to remote control your Mac or PC from your phone. Now, there's Veency to remote control your iPhone from your Mac or PC. But first, you need to have a jailbroken iPhone to install Veency on your phone.
You can check out my iPhone jailbreaking tutorials in the iPhone category.
iPhone apps can be installed both from the App Store or from the third party applications repository, Cydia and Installer, if you have a jailbroken phone.
Install the free Veency app from Cydia and restart or respring your iPhone. Unlike most apps, Veency will not create an icon on your Springboard. To activate it, you need to have a remote control software on your PC such as Ultra VNC or Tight VNC, or Chicken VNC if you have a Mac. Connect to your iPhone using a Wi-Fi conection.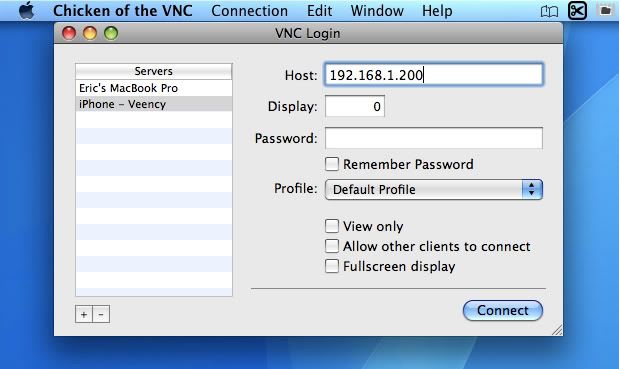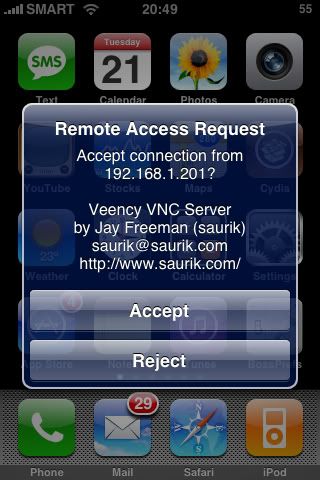 Use your mouse to control your iPhone from your computer.
Click and drag with your mouse to scroll.
A single-click is like a single tap.
Right-click is like pressing the Home button.
While you can perform almost everything you can do on your iPhone from your Mac or PC such as launching applications, reply to emails, text messages, lock and unlock your phone, etc., you may wonder why you need to do those things on your computer, or conversely, you'd rather do most of the things on your computer such as mail, surf, listen to music, watch video, etc., when you have your Mac or PC. Still, there are useful things you can do with Veency than using your iPhone or computer alone.
Some cool things you can do with Veency:
Use your iPhone as a remote video camera and snap pictures using the built-in camera or record in real-time using an app such as Cycorder.
Easily type text on your Notes app using your computer's keyboard.
Run apps on your iPhone while charging it across the room.
Create demos of your iPhone apps using your computer's screen recording application.
Trick or spy on your wife, husband, children or friends (at your own risk!).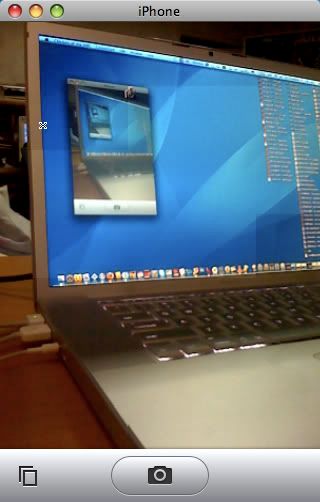 Using your iPhone as a remote video camera.
What you cannot do:
Turn your iPhone screen to it's side or in portrait mode.
Use two fingers to zoom in, zoom out or rotate.
iPhone audio is not transfered to the computer.
Video shows blank screen.