While Caravan (see my review) lets the user use the iPhone or iPod Touch to transfer files to and from a computer, the $6.99 DataCase application lets the user use the computer to transfer files between computer and iPhone.
DataCase supports the Apple File Transfer Protocol (AFP) on the Mac and the web protocol, HTTP, for file browsing and downloading on your computer's web browser. And, like Caravan, it also supports FTP and Bonjour network connections; but unlike with Caravan, you don't need to configure FTP on your computer when using DataCase; in fact you don't need to share your files on you computer at all. Your iPhone becomes both the FTP and HTTP server on which your computer connects to.
When you open DataCase on your iPhone, your Mac will automatically display your iPhone in Finder. If you use a Windows PC, you need to type the FTP address of your iPhone (you can see the address on your DataCase opening screen) in Windows Explorer .
By default, you will have the empty Drop Box and Shared Files folders.
Opening any of those folders will trigger a prompt on your iPhone asking your permission to allow the incoming connection.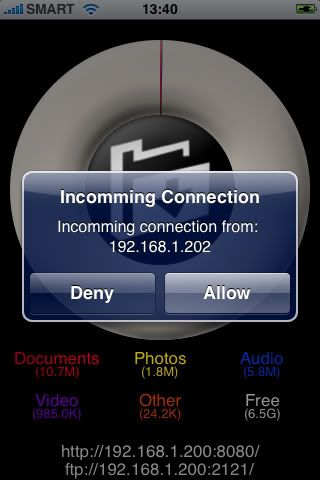 You can create 16 additional Volumes on your iPhone—each having different volume permissions—to differentiate the files you copy from your computer, by clicking on Edit, then Add Volume, enter the volume name, and apply the settings you want.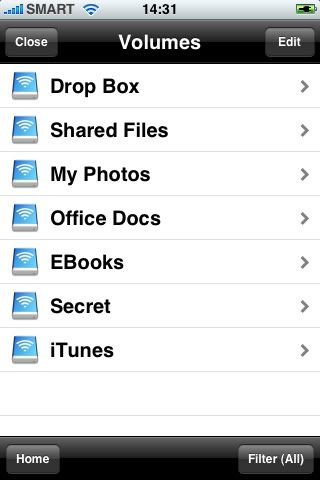 You can then drag and drop files or folders from your computer to your iPhone.
To view all your files on the iPhone, tap the large Folder on the center of the screen or click on Documents, Photos, Audio or Video to filter your files to the appropriate file types. Once inside your volumes, you can apply a different filter by tapping on the Filter button and selecting the appropriate filter.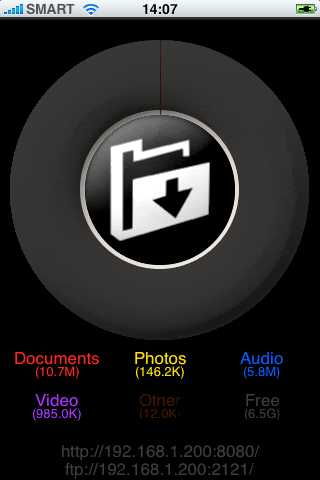 You can delete volumes, folders and files either from DataCase or from your computer.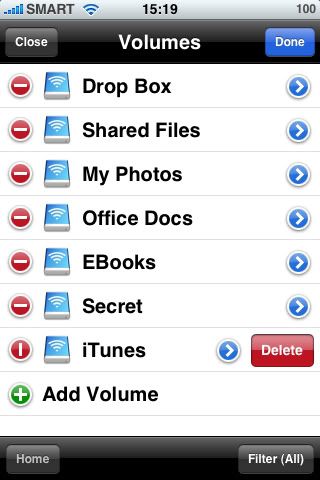 Lastly, if you can't connect to your iPhone using Finder or Windows Explorer, you can still browse and download the saved files on your iPhone to your computer using a web browser on a Mac or PC by typing the address displayed on the DataCase screen to the browser URL.
Like all other file transfer or remote storage applications in the AppStore, the only way to connnect devices to your iPhone and vice versa (based on Apple guidelines) is via Wi-Fi.
Overall, DataCase is a fantastic application if you need to always carry with you important files that you can view directly on the iPhone or easy enough to download to a computer with enough safeguards to make you feel secure while the application is running.