One of the great things about having an iPhone (especially because of its large viewing screen) is that it allows you to do something worthwhile, if not productive, during what would be idle times, such as riding in a bus on a long trip or just sitting alone waiting for someone or something. Instead of counting electric posts or watching people go by, why not whip out your iPhone and read an ebook, watch a movie, or play a game? Since I'm not into computer games, I usually read an ebook. There is one exception however—I like playing chess. The good news is, chess playing computers have come a long way since I discovered a chess program for my desktop computer when IBM XT was cutting edge. Now, even a small chess program for the iPhone can beat anyone of my chess buddies, including me.
The Apple App Store has a few standalone chess apps such as Chess Classic, Caissa Chess and Chess Game. There is also Versus Chess that requires wi-fi to play with other human chess players. Even before the App Store, you can use your iPhone's Mobile Safari browser to play chess using a Web app called Shredder Chess.
Since most of my idle times are spent in places without free Internet connection, I prefer playing on a standalone chess app. Currently, I have both Chess Classic and Caissa Chess installed on my iPhone. Actually I just needed one but I'm not sure which of the two can give me the best satisfaction and thrill. So I pitted the two against each other and see who comes out on top.
My criteria is simple:
Interface
A chessboard that can fill-up most of the iPhone's screen.
Color theme that is easy on the eyes.
Ease of moving the chess pieces.
Playing Strength
Different levels of play that will challenge my own playing skills.
Misc Features
Important – Undo a move (not mainly for cheating but to correct moves that were made by mistake because of tapping your finger on the wrong square).
Minor – Resume a game; Save a game; Provide hints; Move list; Captured pieces; Board Flip
Chess Classic vs Caissa Chess
So what I did is to play Chess Classic against Caissa Chess to their maximum strength on the same iPhone. I first opened Chess Classic and set the playing strength to "Master" and selected it to play black.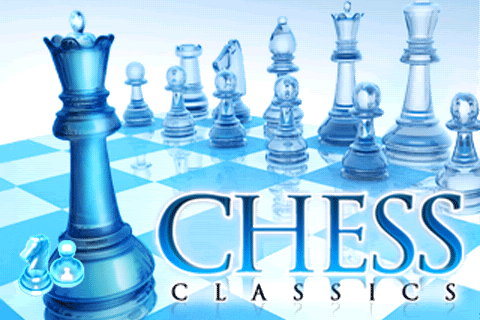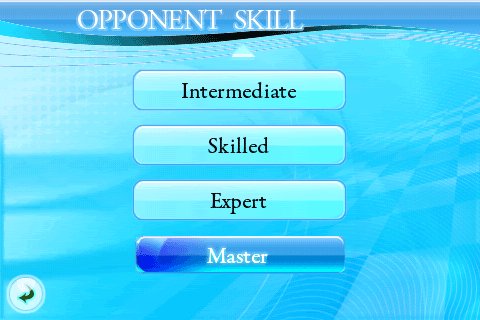 ….Chess Classic with maximum playing strength.
Then I went to Caissa Chess, set it's playing strength all the way to "14" and set it to play white since I will be playing black in behalf of Chess Classic.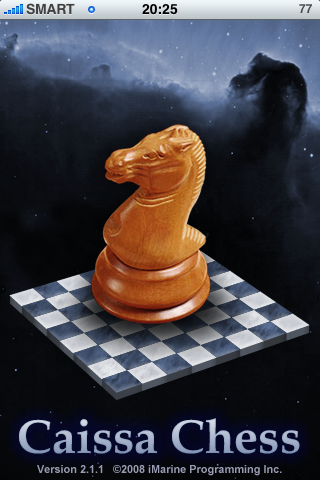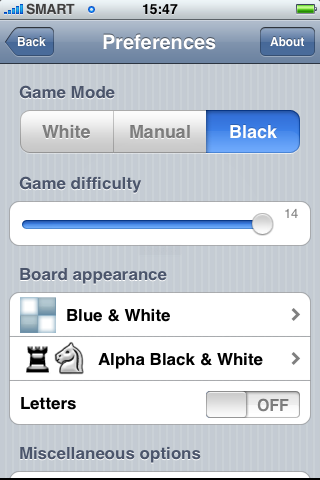 ….Caissa Chess with maximum playing strength.


….Chess Classic interface (left) and Caissa Chess interface (right).
So after Caissa Chess (white) plays its move, I had to press the Home button to go back to the Spring Board, open Classic Chess (black) and play the exact move made by Caissa Chess, and then let Classic Chess respond with its own move. After which, I had to repeat the same process back and forth between the two chess programs until a mate or draw has been achieved. Going back and forth without losing the current position of the chess pieces on the chessboard is made possible by the Resume feature on both apps. Unfortunately, because of the huge memory these programs require, I am not able to use Backgrounder to run both apps in the background. This would have made switching between the two programs quite fast by bypassing the flash screens that takes some time to load.
Here are some of the playing positions that were made by Caissa Chess (white) and Classic Chess (black) during their game.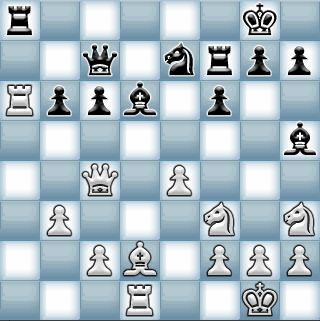 ….After move 20.……………………………………………………………………After move 33.

….After move 51. ………………………………………………………………….. Mate in move 56 by Caissa Chess.
The game took 56 moves before a mate was delivered by Caissa Chess. Although as early as move 20, Caissa Chess already achieved a pawn and positional advantage. By move 33, Classic Chess' position is hopeless. In move 52, Classic Chess had to sacrifice its Queen and then its Rook to avoid mate.
The main problem with most chess programs is the inability to resign a lost cause (high-end chess programs such as Fritz and Hiarcs do have this capability). Perhaps, since they were programmed to play against humans, their developers considered that humans make mistakes and computers are capable of salvaging the game with a draw especially by way of a stalemate.
Verdict
In terms of the Interface, it is obvious that Caissa Chess is better looking with a bigger board, plus the fact that you have the option of moving the pieces using "drag and drop" or by "tap and tap". I prefer the "drag and drop" feature (less chance of making a mistake since you can position the chess piece exactly on the square you want to move it before releasing your finger). Classic Chess can only perform "tap and tap".
Although, Classic Chess has the 3D display feature with perspective adjustment, it doesn't create a better view of the chessboard and its pieces, and in fact make it more difficult to play with.

….3D Interface on Chess Classic.
As far as playing strength is concerned, we just saw how Caissa Chess handily beat Chess Classic using their maximum strengths. Although it was only a single game, I can attest to the overall strength of Caissa Chess over Classic Chess by playing against both of them. Also, in terms of speed of play, Caissa Chess moves 5 seconds faster than Classic Chess in maximum strength play (10 secs to 15 secs).
Both programs have the following features: Undo, Resume, Save, Hint, Move List, Captured Pieces, Board Flip and more. Chess Classic also comes in with a Tutorial but this only adds up to its huge file size of 72.5 MB compared to only 1.6 MB for Caissa Chess. I would rather play chess on my iPhone and do tutorials and further readings on my computer.
With both having a price tag of $9.99 in the App Store, there is no doubt that Caissa Chess gets my nod.