Update: You can also install the BossPrefs app in Cydia to turn ON and OFF EDGE and other settings (note: BossPrefs is still in beta test so use at your own risk! – I have personally tested EDGE and it works. You just have to wait a few seconds after turning it ON or OFF).
The way you disable EDGE on your Pwned iPhone 2.0 depends on the cellular carrier or service provider you use. Certain cellular carrier information are already stored on the iPhone 2.0 which only means that they are the authorized carriers appointed by Apple to sell bundled contracts with iPhones. Apple also gave these service providers the ability to disable the APN settings on the iPhone 2.0 so their customers can only use their networks. If so, you cannot simply edit your APN settings. Of course there is a solution.
On the other hand, if you are on an unlocked iPhone 2.0 and using a service provider not officially appointed by Apple, you can manually change the APN by simply going to Settings -> General -> Network -> Cellular Data Network and editing the APN to something like "disabled" (note: merely changing it to blank sometimes doesn't work).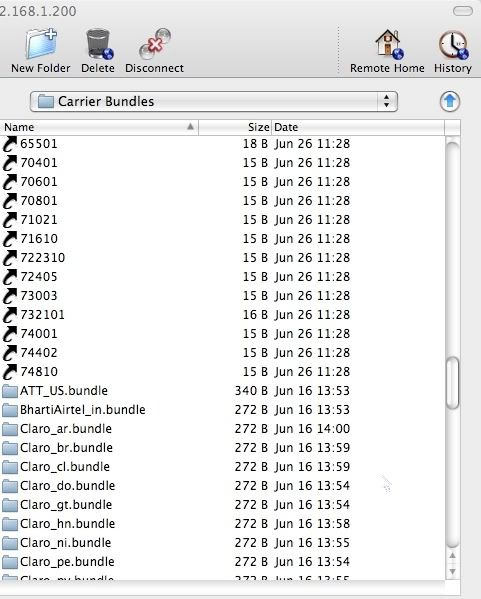 You can also check your iPhone to see if your service provider's APN info is already included in your iPhone 2.0 by installing OpenSSH from Cydia and using a tool such as Fugu or CyberDuck. Just login to Fugu with your iPhone's IP address (ex. 192.168.1.200), username (root), password (alpine), and go to /System/Library/CarrierBundles folder. It will display a long list of cellular service providers.
If you cannot manually edit your APN settings because of cellular service provider restrictions, you can perform the following:
1) Download and install the iPhone Configuration Utility to your Mac or PC.
2) Select Configuration Profiles under Library on the left pane.
3) Click on the Advanced tab and enter something like "disabled" in the APN information and "x" under User Name and Password.
Now, you need to send the configuration file to your email that you can access on your iPhone.
4) Click on Share and send to your email address.
5) On your iPhone, open your email and install the Configuration File.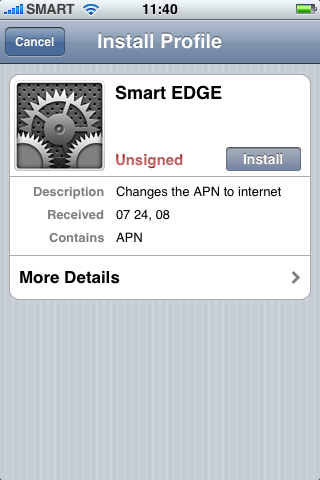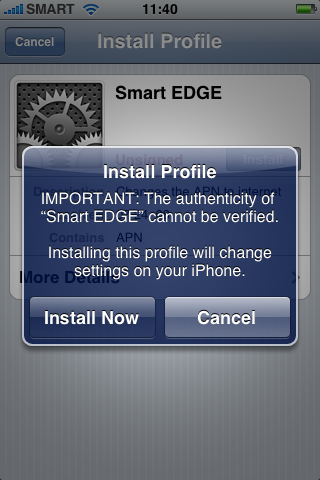 You can check your Data Cellular Network settings and then test it by disabling Wi-Fi and connecting to the Web. You shouldn't be able to connect using EDGE.
How to turn EDGE ON again? Simply create a new configuration file with the correct APN settings and email it again to yourself. Now, you can turn EDGE OFF and ON by installing the appropriate configuration file on your iPhone.
If you don't know your APN settings, please check my previous post, How to Enable EDGE After Pwning Your iPhone .