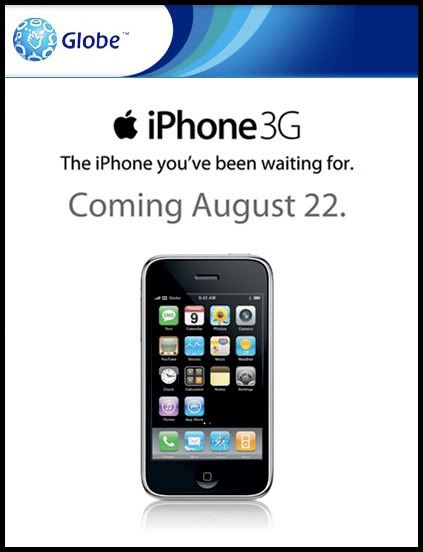 Globe Telecoms officially announced yesterday the much awaited launch date of the Apple iPhone 3G, the first official iPhone offering in the country. August 22 may be a red-letter date for Globe, guaranteed to make their executives and die-hard iPhone fanatics wide awake as BigBoss' Insomia application, but to the majority of Filipino iPhone fans, it might as well be a big disappointment and that could lead to a self-induced switch to sleep mode.
You see, Apple advertises the new iPhone 3G as "Twice as fast. Half the price". But for Globe's initial pricing scheme, the only thing twice as fast will be how your wallet or credit card empties. The cost for an 8 GB iPhone 3G Prepaid Kit is currently pegged at P41,889 ($950), a far cry from Apple's advertisement of "starting at $199". Wow, a mighty huge difference that makes a Dela Hoya versus Pacquiao fantasy fight look like a fair match.
I bought my first generation 8 GB iPhone for P27k back when it was selling in the US for $399. I believe that was a fair price at the time even when it went down to as low as P18k several months after. Of course I had to do the three-finger Apple shove (jailbreak, activate and unlock) to make it work because there was no official cellular service provider yet offering the iPhone in the country (check this post for my iPhone history). Many didn't want to take the risk of bricking an iPhone (turning it to an expensive paperweight) by messing with its software program and causing it's warranty to become void. So they patiently waited for Apple to appoint Globe, Smart or Sun as the official iPhone partner and service provider that will unleash the Time Magazine's Best Product of the Year to the Texting Capital of the World. Now that it finally happened, I wonder if Apple made a globally smart and sunny decision. But I guess Apple doesn't really care if the telcos rip off their customers; the blame will not fall on them for bringing the cost of the unit down—but I bet Apple gets a huge profit share from these telcos. Devilishly slick!
So being an iPhone fan myself (and a lot of things Apple), it's time to decide whether to go for the latest and greatest, to remain at the cutting-edge and simply to maintain a cool image, or be the practical and prudent guy in these inflationary times where majority of our people's meager savings (if any) are carefully divided into payments for basic needs and services and mega lotto tickets. After all, I already own an iPhone with the latest firmware that provides me all the software functionality of a 3G iPhone.
So, is the faster connection speed of a 3G iPhone a reasonable justification for shelling out P42k? Nope, I don't think so. I used to own a Nokia phone that has 3G and I seldom use it other than downloading e-mails where there is no free Wi-Fi connection, and at least once to use it as a modem when the internet connection in the office went down. For email retrievals, GPRS or EDGE is fast enough that it will take you less than the minimum time (15 mins for Globe and 30 mins for Smart) before the telco charges you more.
So for now, I will stick with my first generation iPhone and enjoy all the important features of a 3G version and not be affected much by connection speeds (thanks to the proliferation of Wi-Fi). If you buy an official iPhone from Globe, you have to think twice whether to hack it or not (hacking it lets you enjoy more applications from third-party developers that are not restricted by Apple's strict development guidelines, and the ability to use it on your preferred telco), otherwise, you void the warranty. In the meantime, I have no choice but to support the iPhone hacking community all the way until such time Globe pricing schemes come down to reasonable levels or new iPhone hardware features—other than 3G—can be compelling enough to make an upgrade.