The wait is over for all iPhone 3G users to unlock their jailbroken phones who previously applied yellowsn0w. The iPhone Dev-Team has fnally released their much awaited new tool—Ultrasn0w. Although Ultrasn0w should also be able to unlock the new iPhone 3G S, there is still no tool to make the required jailbreak before an unlock can be applied (hint: watch out for purplera1n.com).

Unlocked means an iPhone can use any cellphone carrier even those not officially appointed by Apple.
Jailbroken means an iPhone can install 3rd party applications not available in the Apple App Store in iTunes or iPhone using the installer Cydia or Icy.
Here is the simple instruction on how to Unlock an already jailbroken (w/ PwnageTool or Redsn0w) iPhone 3G using Ultrasn0w.
Note: Those on a USA T-Mobile SIM at 3.0, turn off 3G mode in Settings->General->Network before starting.
Step 1. In Cydia, add a new Source and enter http://repo666.ultrasn0w.com (that is zero after "n" in ultrasn0w).
Step 2. Source has been added. Select it.
Step 3. Select ultrasn0w in the list of packages.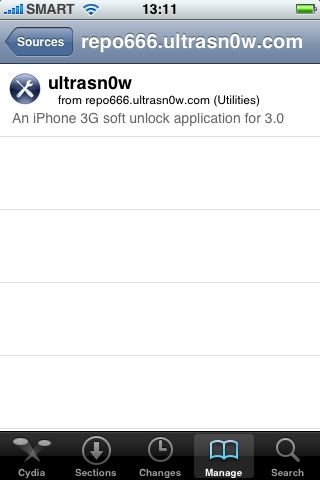 Step 4. Press the Install button on the top-right of the screen and then tap Confirm.
Step 5. After the installation has been completed, turn off your iPhone and then turn it back on again.
You should now be able to insert a SIM of your choice.