I have been using Parallels for almost a year to run Windows Vista on my MacBook Pro. Well, that was after I ran into problems with VMware Fusion. Now, with the latest Fusion 2.0, it's time to put it out to a test again and see how it fares with Parallels 3.0. I wouldn't want to install it on my Macbook Pro just yet so I'm going to use my Hackintosh to install Fusion 2.0 on it.
Since I already have Vista Ultimate installed on another hard drive in my Hackintosh, I figured the best way to run Vista within OS X Leopard is to use VMware Converter to convert Vista into a virtual machine and then use this virtual machine inside VMware Fusion in OS X Leopard.
Pre-requisites
VMware Fusion 2.0 (Get free trial or free upgrade if you have ver. 1.x)
PC running Windows Vista using NTFS with at least 300 MB of free space
Hackintosh with OS X Leopard 10.5.5 (older versions not tested)
In my case, I have my Windows Vista and OS X Leopard on separate hard drives on the same PC .
My Hard Drive Configuration
Drive 1
Microsoft Windows Vista Ultimate
VMware Converter 3.0.3
Vista VM (created by VMware Converter)
Drive 2
OS X Leopard 10.5.5
VMware Fusion 2.0
Vista VM (copy)
___________________________
Drive 3 (OS X Leopard 10.5.2) – not used
USB External Drive – not used
Important Notes
My experience with VMware Converter wasn't smooth at all. It took me 4 tries before I finally got it right, and each conversion took around 5 hours. It was frustrating especially when the conversion has already reached 97% when it failed. Each time, the errors were different. Anyway, I just went ahead and kept my patience and determination.
Initially, I tried installing the virtual machine to a USB external drive. This is a nice option because I can bring my USB drive and connect it to any Mac or another Hackintosh that has VMware Fusion and access my Vista VM. But since I was getting those errors, I decided to install it on the same hard drive where my Vista installation resides (my other 2 internal drives don't have enough disk space). I figured that I can just copy it to my USB drive later. With this procedure, I successfully completed the conversion of my Vista VM without errors.
I found out later that copying the virtual machine to my USB drive and using it under VMware Fusion on my Hackintosh was a mistake, and even though I was able to successfully install and run it, I wasn't able to run VMware Tools. Using the System File Checker inside the Vista VM (running "sfc /scannow" in the command prompt as Administrator), showed several corrupted files that cannot be repaired. This made me conclude that the problem is my USB drive.
So I decided to delete some files on my OS X hard drive and copied there the Vista VM from the Vista drive. I cannot simply use the VM files created on my Vista drive since these files are read-only from the OS X drive. Now, it's just a matter of running again VMware Fusion from OS X and selecting the Vista VM on the same drive. Everything went smoothly this time including the installation of VMware Tools. The Vista VM runs faster on the internal hard disk than on the USB.
These are also the things that I recommend should be done prior to running VMware Converter on the Vista server to minimize failures:
Use a local administrator account when logging to the PC to install VMware Converter.
Make sure the following Windows Services are running: Workstation, Server, TCP/IP Netbios Helper, Volume Shadow Copy and VMware Converter.
Ensure you have at least 200 MB free space on your source server's C drive.
Break any mirrored or striped volumes across multiple disks. Hardware RAID is OK.
Disable any antivirus software.
Shutdown any applications that are not needed on the server.
Run chkdsk and defragment your hard disks.
Clean up any temporary files.
So here are the steps on using VMware Converter on Windows Vista.
Create the Vista Virtual Machine Using VMware Converter
1. Install and run the VMware Converter 3.0.3 in Windows Vista. Click Convert Machine.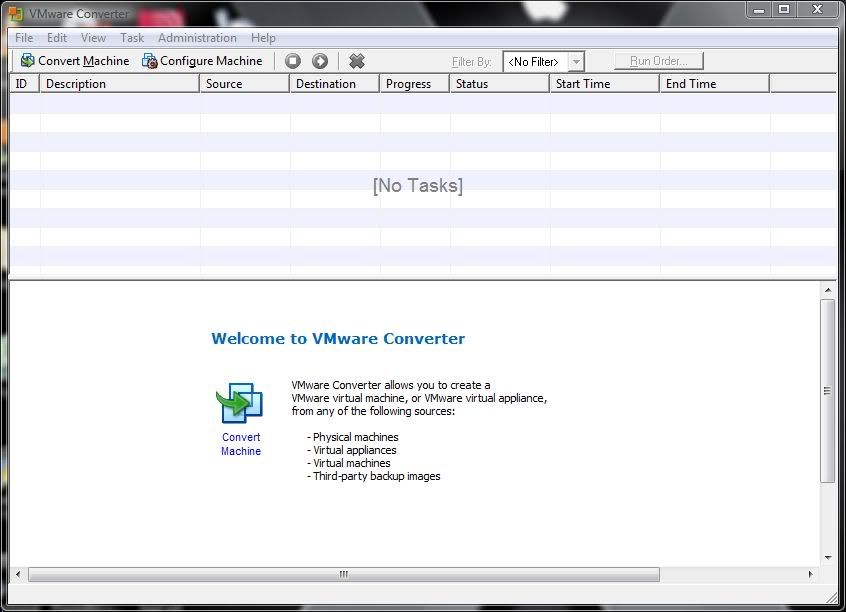 2. On the Welcome Screen, click Next.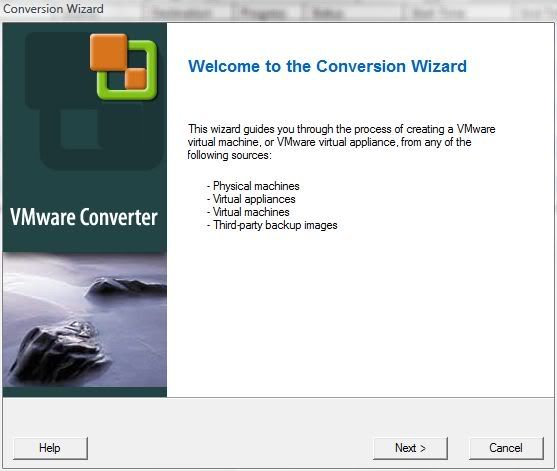 3. On the Source Screen, click Next.
4. Select Physical Computer as Source Type. Click Next.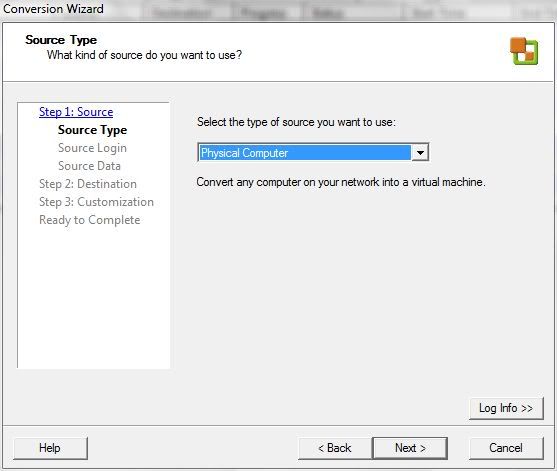 5. Select This local machine. Click Next.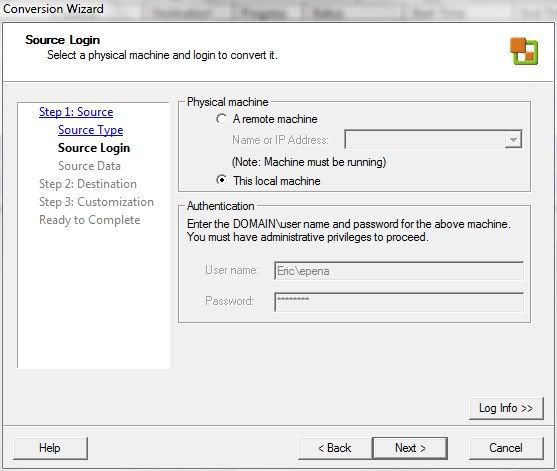 6. Select the Disk Drive you want to convert. In this example, I will only select c: and deselect my other drives (d: and f:). Click Next.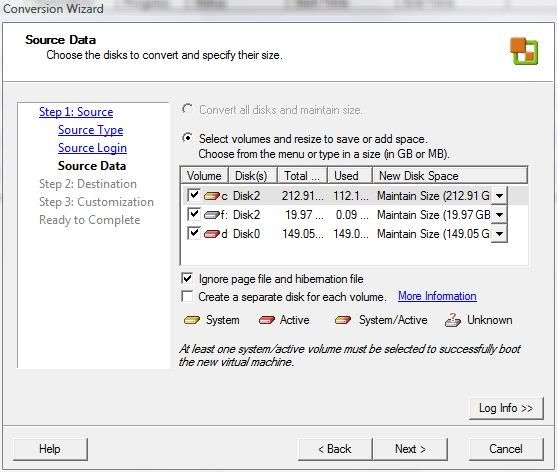 7. You may be prompted with this dialog box. Click Yes.
8. On the Destination Screen, click Next.
9. Select Other Virtual Machine as the Destination Type. Click Next.
10. Enter a Virtual machine name and choose a Location to store your virtual machine. Select Workstation 6.x, VMware Fusion 1.x, Player 2.x, ACE 2x. Click Next.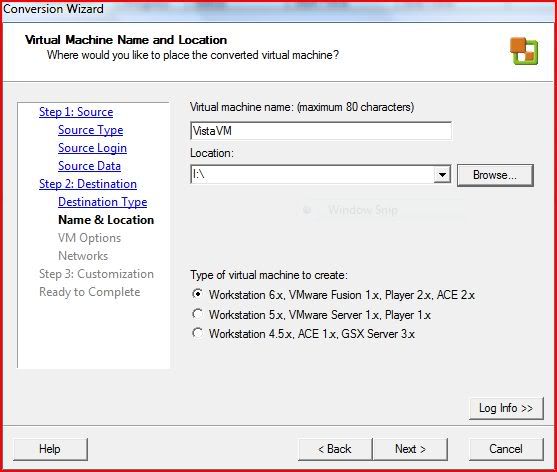 11. Select Allow virtual disk files to expand and check Split disk into 2 GB files. Click Next.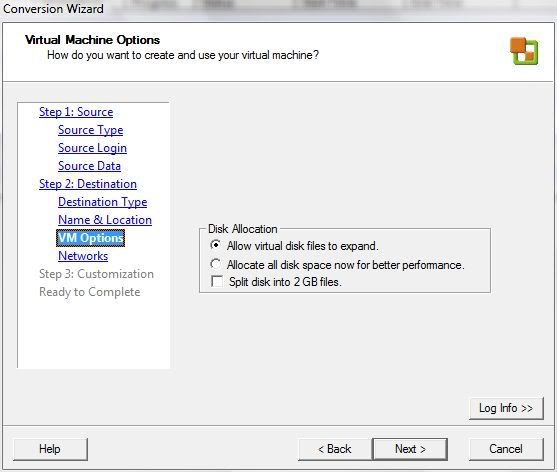 12. On the Networks Screen, select the default and click Next.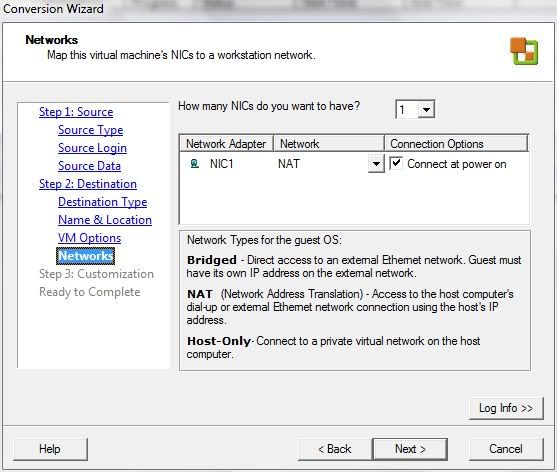 13. Select Remove at System Restore checkpoints (you can install VMware Tools later). Click Next.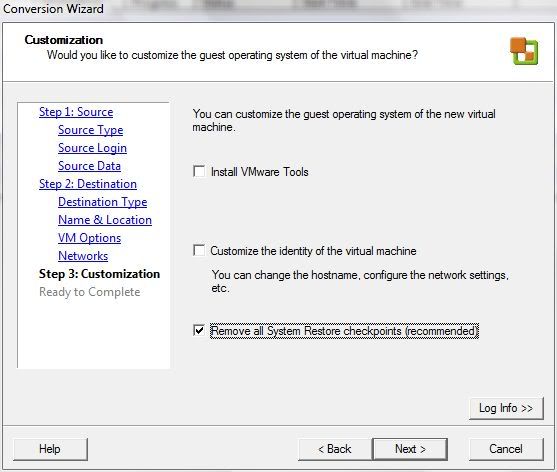 14. On the Ready to Complete Screen, click Finish.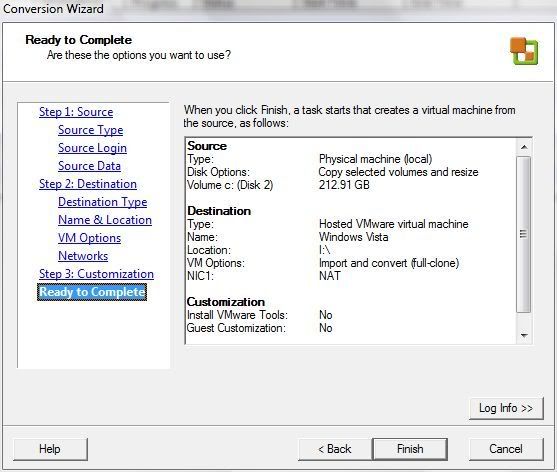 15. Wait for the Converter to do its thing until it is done.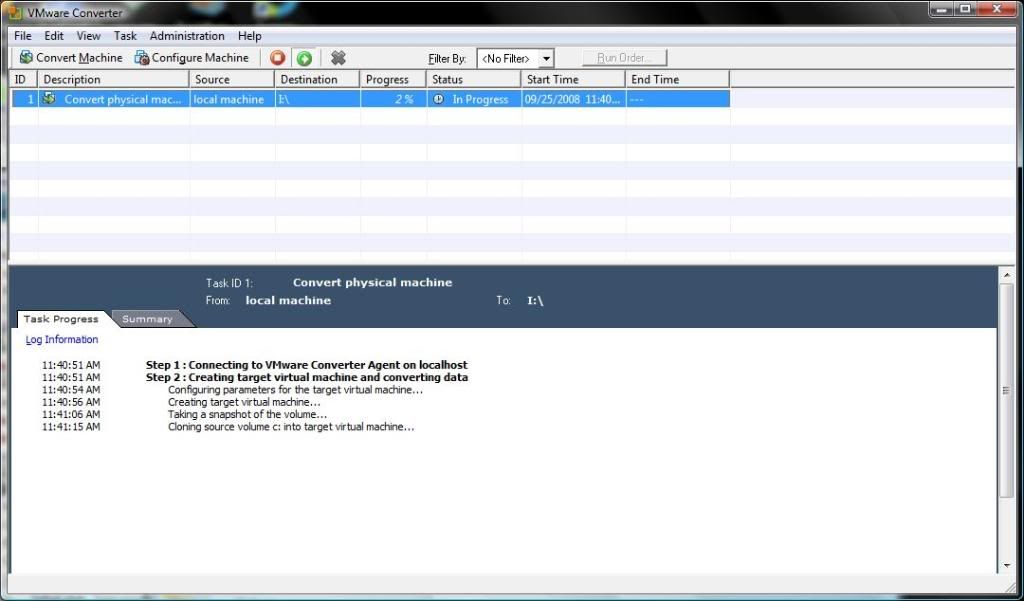 When the conversion is finished with no errors, it is time to install and run VMWare Fusion 2.0 on your Mac or Hackintosh, or in my case, in my OS X drive in the same PC.
Next –> Tutorial: Using VMware Fusion 2.0 On A Hackintosh, Part 2: Running the Vista VM