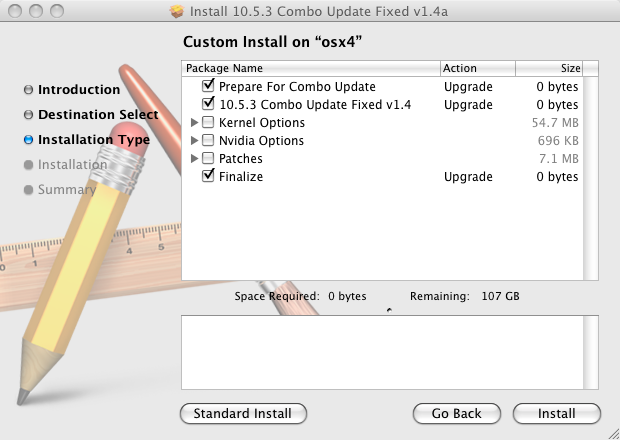 For those of you who followed my last Hackintosh tutorial and continues to encounter problems, Mysticus has come up with a new update–version 1.4b.
Here are the changes in 1.4b:
a) Most if not all errors have been fixed!
b) No more terminal error, or deletion of login… terminal works just fine after update
c) No suid errors! no ahci error (if used with compatible systems, no jmicron ids added, so you may need to add them by yourself to test, other than that, it should work with all ICH controllers…) no hdd icon errors..
d) Package backups entire extensions (drivers) folder to /backupkexts so if you wanna restore your working acpi? or audio? or network? just replace the files from your backup folder to extensions folder afterwards so that you wont have any problems afterwards…
e) By default if no kernel choosen, it will install 9.2.0 sleep kernel 9.2.0 system.kext (so there should not be any usb mount issues unless you do some manual changes by your self, to kernel/system.kext or u have left pcgenusbehci driver in iousbfamily/contents/plugins/ which will cause conflict!)
Follow this link to his thread in InsanelyMac and click on the little emoticon with the trumpet to download the 10.5.3 Combo Update Package v1.4b and try it out.
Good luck guys. Hope you finally get your own Hackintosh up and running.